Pack leader
Posts: 15088
Joined: Thu Jun 16, 2005 4:43 pm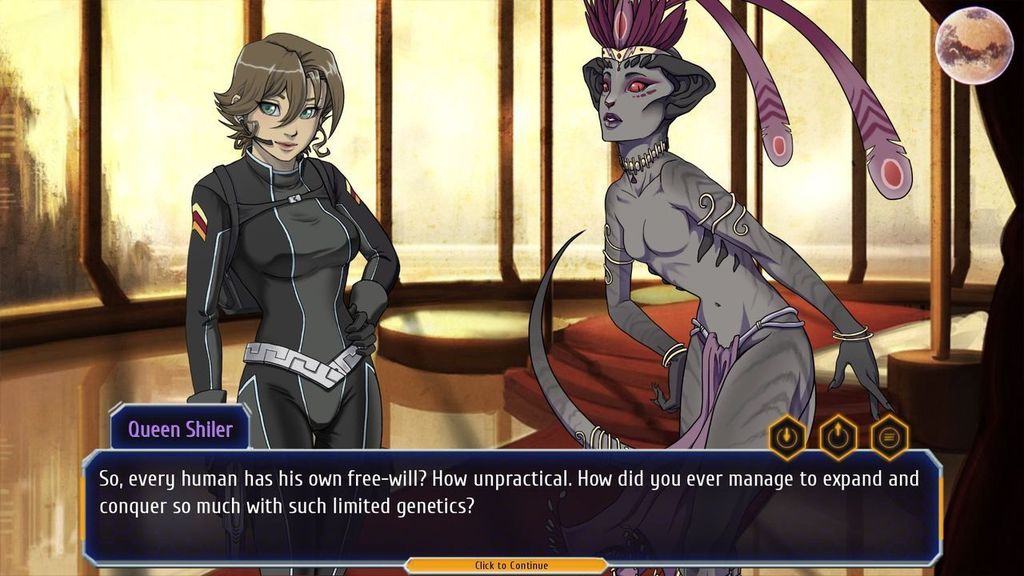 I'm going on writing some minor scenes during the first chapter, the various "camp talk" with the characters

Druid
Posts: 337
Joined: Thu Aug 23, 2012 9:13 pm
Love this artist work sooo much <3
Pack leader
Posts: 15088
Joined: Thu Jun 16, 2005 4:43 pm
Haha yes. I really don't understand why some people say the art is ugly! (but it's a very small minority to be honest).
Druid
Posts: 406
Joined: Fri Jun 14, 2013 12:30 am
Honestly, there is something about the art that is a little off at times, especially the camp talk image,s where the poses look a little stiff. Still, there is a subjective side to art, and I happen to like even if it's not highly polished like more mainstream titles.
Pack leader
Posts: 15088
Joined: Thu Jun 16, 2005 4:43 pm
I think towards the end this artist had some "fatigue". I mean it's still the same person but I agree something looks different, like the lines are more thick for example, less details. I don't know why this happens but happened with many artists with a few exceptions (Rebecca, Loren's artist, etc).
Pack leader
Posts: 15088
Joined: Thu Jun 16, 2005 4:43 pm
a new gameplay video showing a bit how the various voices work in the game. Lol it's fun to see the different reactions depending if they're loyal or rival
RIVAL: WHAT DO YOU WANT?! GET LOST! etc etc
LOYAL: HEY! WELL MET!! YO!!! etc etc
Pack leader
Posts: 15088
Joined: Thu Jun 16, 2005 4:43 pm
"When Everything Fails, Use Grenades" ancient Sun Tzu saying
Jokes apart it's a fun video I made, it's not really viable to use it the whole game since you need to waste a lot of money to buy the grenades (I spent 1400 credits to buy them and I even had more in inventory), but if you're stuck with a particular battle, might be useful… maybe too much. For now, I don't plan to tweak this since in this encounter the enemies cannot heal (with enemies who heals they're less effective, even if they can still destroy enemies defenses very quickly).
Pack leader
Posts: 15088
Joined: Thu Jun 16, 2005 4:43 pm
Lol in this game, even setting the romance requires a complex system
Really, just thinking about Loren 2 makes me sick (since it's even worse than this one). Making a game with starting romances + new romances it's the biggest mistake I've ever made and that I will NEVER repeat in my whole indie career!! It's enough to drive someone nuts
Elder Druid
Posts: 957
Joined: Fri May 06, 2011 2:23 am
Is there an option to skip or disable all the tutorials? Sometimes I think they over-explain things and give away what's coming up. E.g. I don't want to know when a given break-up or reconciliation is coming (even if it is a common trope for the genre) because it takes away some of the mystery and exploration of the plot. And even if it's probable, not all games include those events, so if it wasn't pre-announced, I don't always know if it's coming or not and am more motivated to play the game to figure out what's going to happen.
Pack leader
Posts: 15088
Joined: Thu Jun 16, 2005 4:43 pm
Hmm I didn't think someone would want to skip such important info (I was already imagining a crowd of angry people screaming at me "why you didn't tell me at day XZY there was a romance break up!!! Bwaargh!!!). I don't know, for now I'm not planning to remove them, especially because if you miss some of them you might end out with the alone ending. And I still remember all the emails/messages about Loren or SOTW because I didn't warn players about certain events in the game way before they were happening!
Basically it's extra work for what 99.99999% of people would want to know anyway, sorry!