Re: latest update on Loren 2!
Posted: Sat Sep 05, 2020 5:29 pm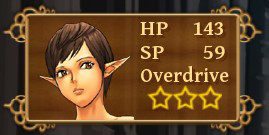 Feeling better recently, and I'm taking care of not overworking myself. But I've already designed the foundation of the first game (or maybe of all the 4, since they'll share same system). I am going to try experimenting once again, this time I'll add an "overdrive" system. Each character will have an ultimate skill (very powerful obviously) but that can be used consuming this overdrive value, which currently I put at 3 (so max 3 uses).
That overdrive value remains from battle to battle (I think, not sure yet) so in practice people could want to save it for later and more difficult battles and so on.
Another feature will be the reintroduction of the front/back row system, and each game will have max 6 party characters (so you can fill a whole party with it with no reserves), which will solve the problem of "unused characters that lag behind", since you'll use all the characters for most of the time