Alright, so I definitely want to get this game out next year. No, this time for real!
The biggest "problem" is: I am going to have some pretty interesting backstories. For those not up to date: in the game story, you're in the afterlife, and a good amount of the story will be discovering who each character was previously, and how they died. Note: the "soul" could belong to anything, so not only humans
So the premise I think is interesting, and the drafts storyboards are turning out (in my opinion) very good, but there's a problem: the art.
Doing the art for all the backstories would be impossible for two reasons:
1) this artist doesn't work anymore, so I would need to use another one = bad
2) even then, there'll be such a variety (their past lives spans different ages/eras, so medieval, sci-fi, etc) that I would also need a lot of backgrounds and so on
In short, using standard visual novel visualization for the backstories too is out of question. I thought about two solutions:
1) the characters would just tell the story to the player through dialogue. On screen there would be just the character talking, describing the scene
2) use some sort of black & white comic to illustrate the stories/flashbacks as the characters tells them
I believe that the second option would be better (better art than no art at all I think?) but the downside is that it would cost me more money. This game is already one of the most expensive I ever made due to the crazy amount of CGs, BUT I would be OK to spend even this money if it's worth it.
I made a test of how it would work visually. I could still tweak it so that instead of a separate square uses a different system, like a "dreamy" border, or some other effect. But for a simple test I did this:
Update: also tried another style, using the NVL-mode of Ren'Py: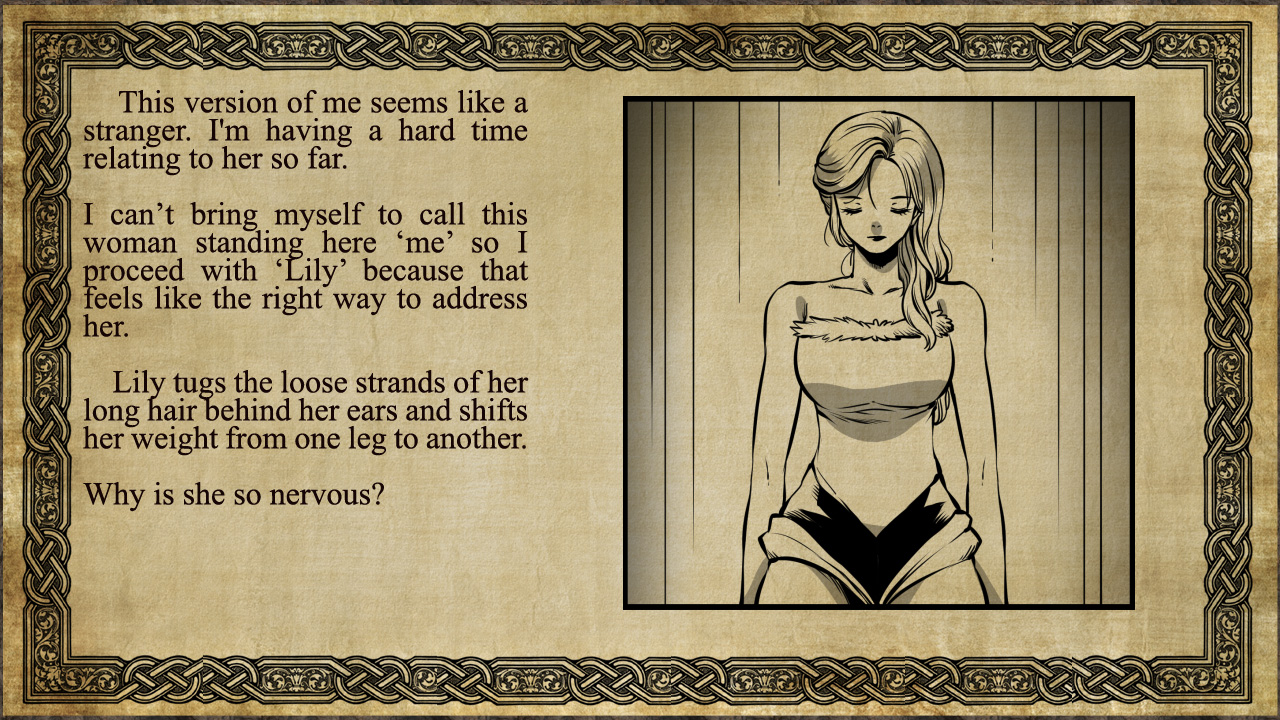 What do you think? should I go on with this or not? As I said, it would cost me more money, but I'd be OK with that. But if most people think it's unnecessary (or even worse, looks bad) then I'd just use the art I have already and players will read the story with no illustrations.
Thanks for any feedback